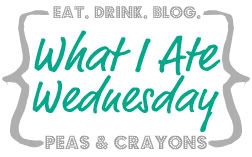 It's been a while since I did a What I Ate Wednesday post!
Before my eats, can we talk about The West Wing for a minute? I'm loving The Newsroom on HBO currently, so decided to catch up on the The West Wing (another Aaron Sorkin) show via Netflix. I'm still on season 1, but rocking through it steadily. But I have a question about Charlie…the President's personal aide. So he comes to the White House to apply for a job because his Mom was killed and he needs to help take care of his sister who's still in high school.
Okay, I get it. However, Charlie's got to NEVER be at home!! Those people work crazy long hours! And he's gone on 3 out of town trips with the President this season already. Who the heck is watching out for Charlie's sister? Is she just living it up alone??
You know how I live it up alone? I splurge and have Grape Nuts for breakfast! Booyah…stellar segue I did there. Grape Nuts isn't the lowest calorie cereal out there, but sometimes I just crave that crunch.
My recent guilt-free splurge…the light coffee frappuccino from SB, only 110 calories for a grande. It helps me beat the heat on the hot Austin mornings.
PS…a tip if you live in South Austin near Southpark Meadows like I do…it's WAY faster just to run into the Super Target Starbucks then to wait in the long ass line at the real Starbucks in the shopping center.
Lunch was a quick combo of grapes, pepper jack cheese, tomatoes, and pretzels. I had a banana later on too.
For dinner, I went to Torchy's Tacos! I didn't take a photo, but it was delish as always.
I'm off to watch another episode of The West Wing!! Please tell me that Josh & Donna end up getting together. Oh oh oh and CJ & Danny have to get together too!